Louise Cake with Plum and Coconut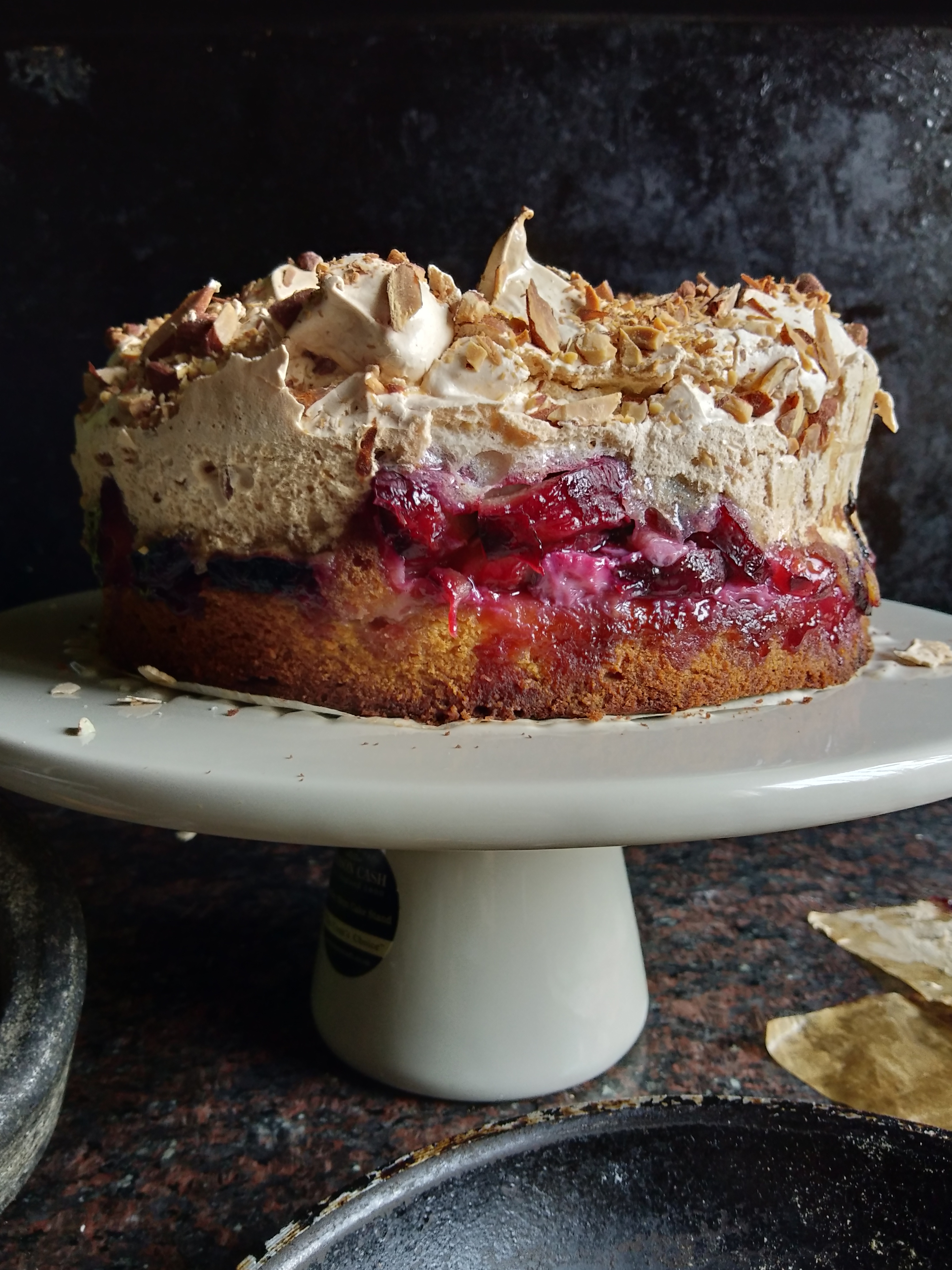 ever heard of Yotam Ottolenghi? well, ever since we did, we've been wanting to give all of his kitchen-creations a go especially after having managed to succeed with a few of his simple yet daring works of food. which is why when his book "Sweet" hit the shop-floors, we just had to get our hands on a copy. it's hard to ignore the strong Mediterranean influence his creations take on but there are exceptions to it. we had a hard time picking one recipe from the book-collection (and should we mention how much harder those pictures make it for you, with you wanting to lick each page right off) and decided on this simple yet sophisticated-looking Louise Cake, with a twist to the original brought in by Ottolenghi himself.
we chose plums for stone-fruit because that's what we found to be in season on shopping for produce. the original recipe uses raspberry jam for fruit but there's always something about using fruit natively and this recipe for one, blends not just flavors but also textures, handsomely. you could as well substitute any other stone-fruit but choose one that's not too mushy and helps preserve its shape on baking, such as apricots or peaches instead.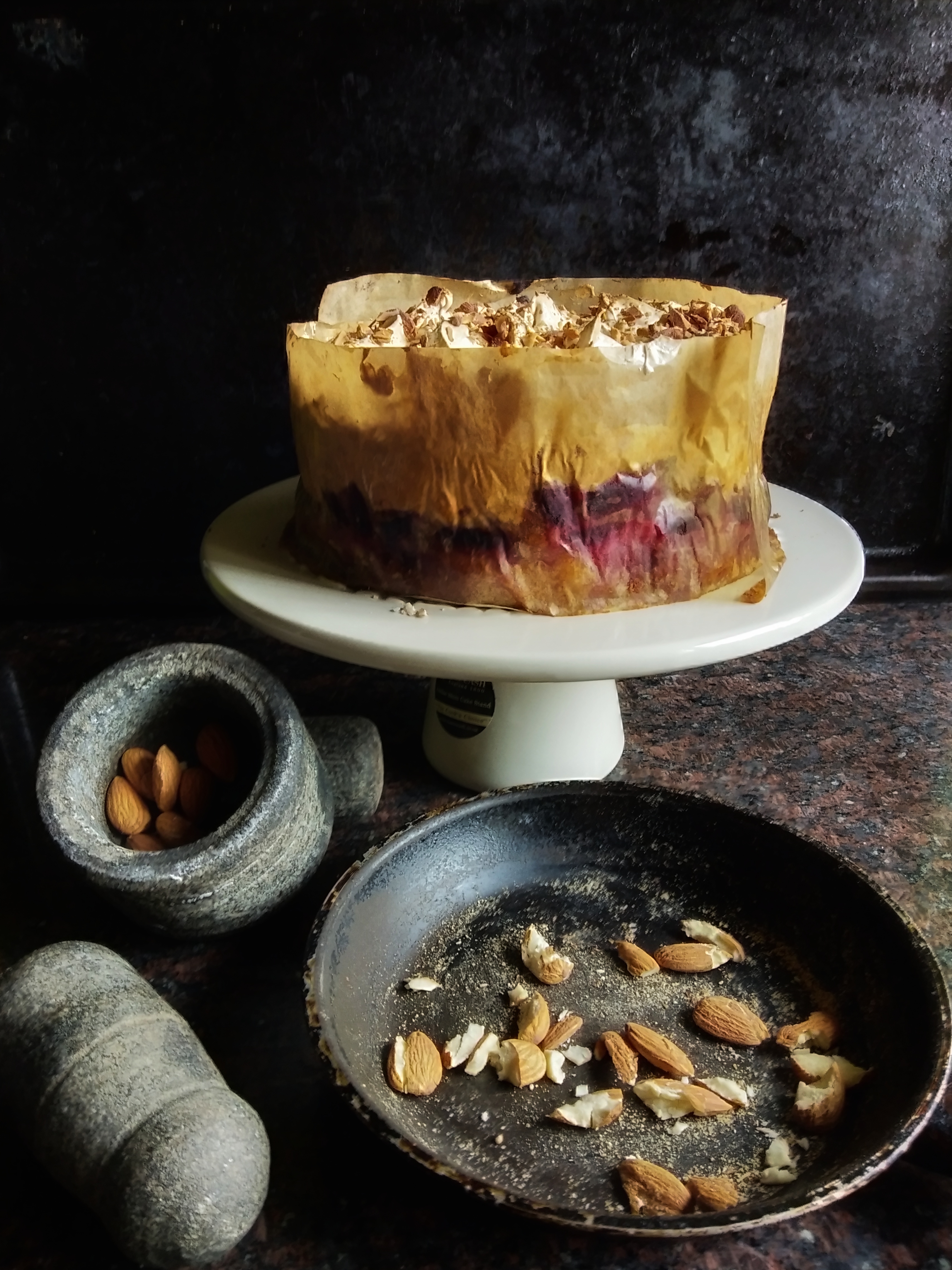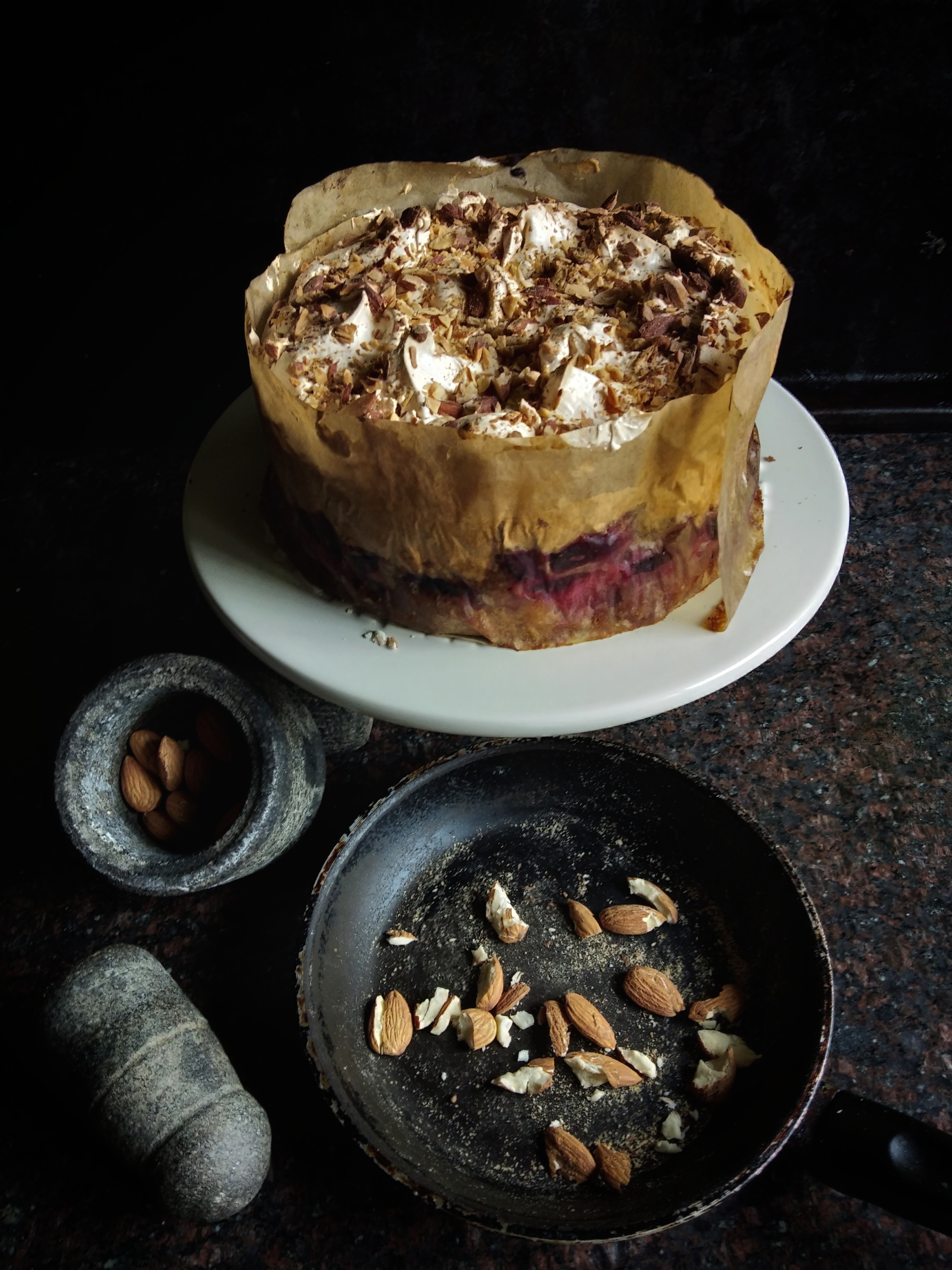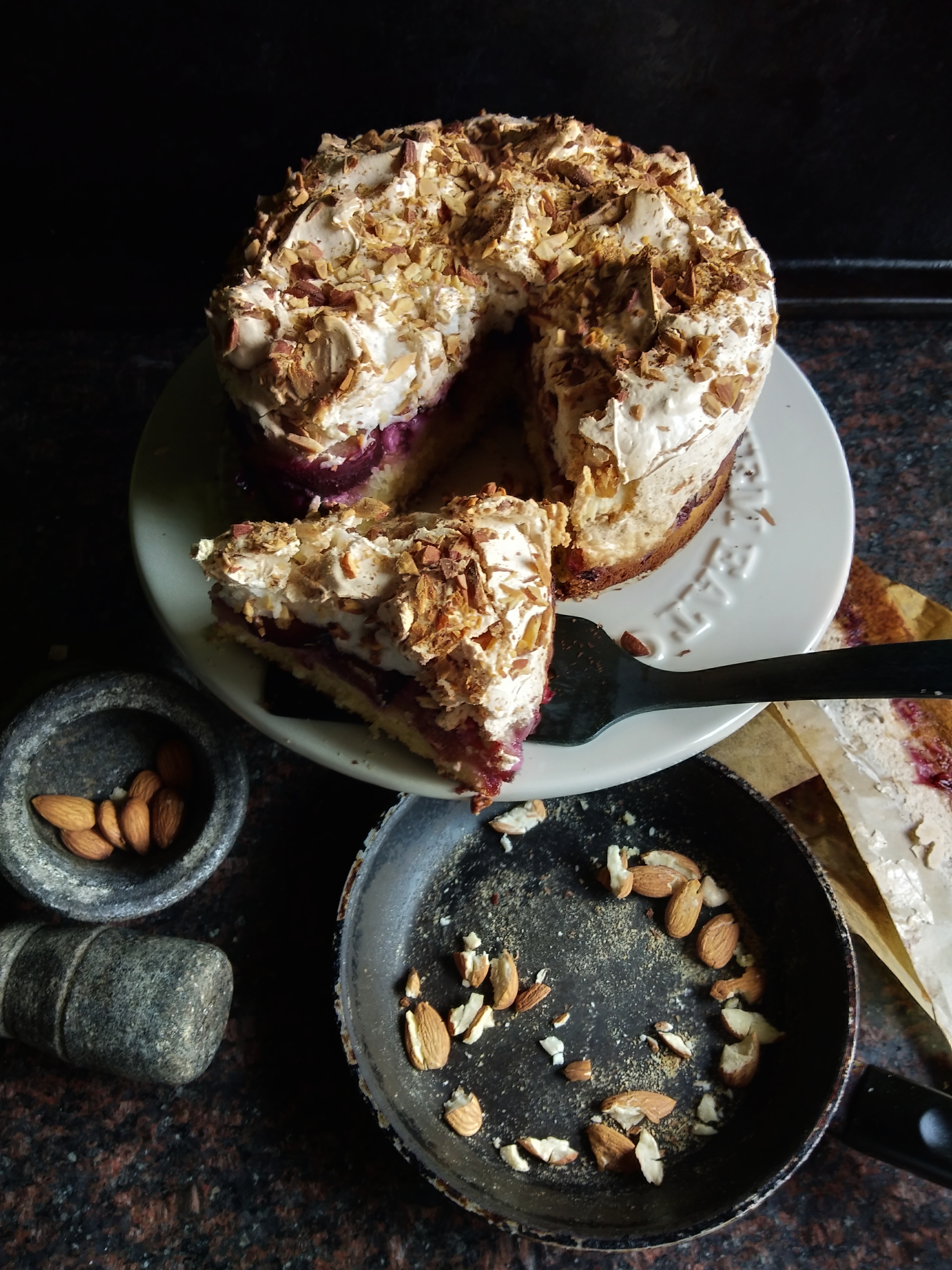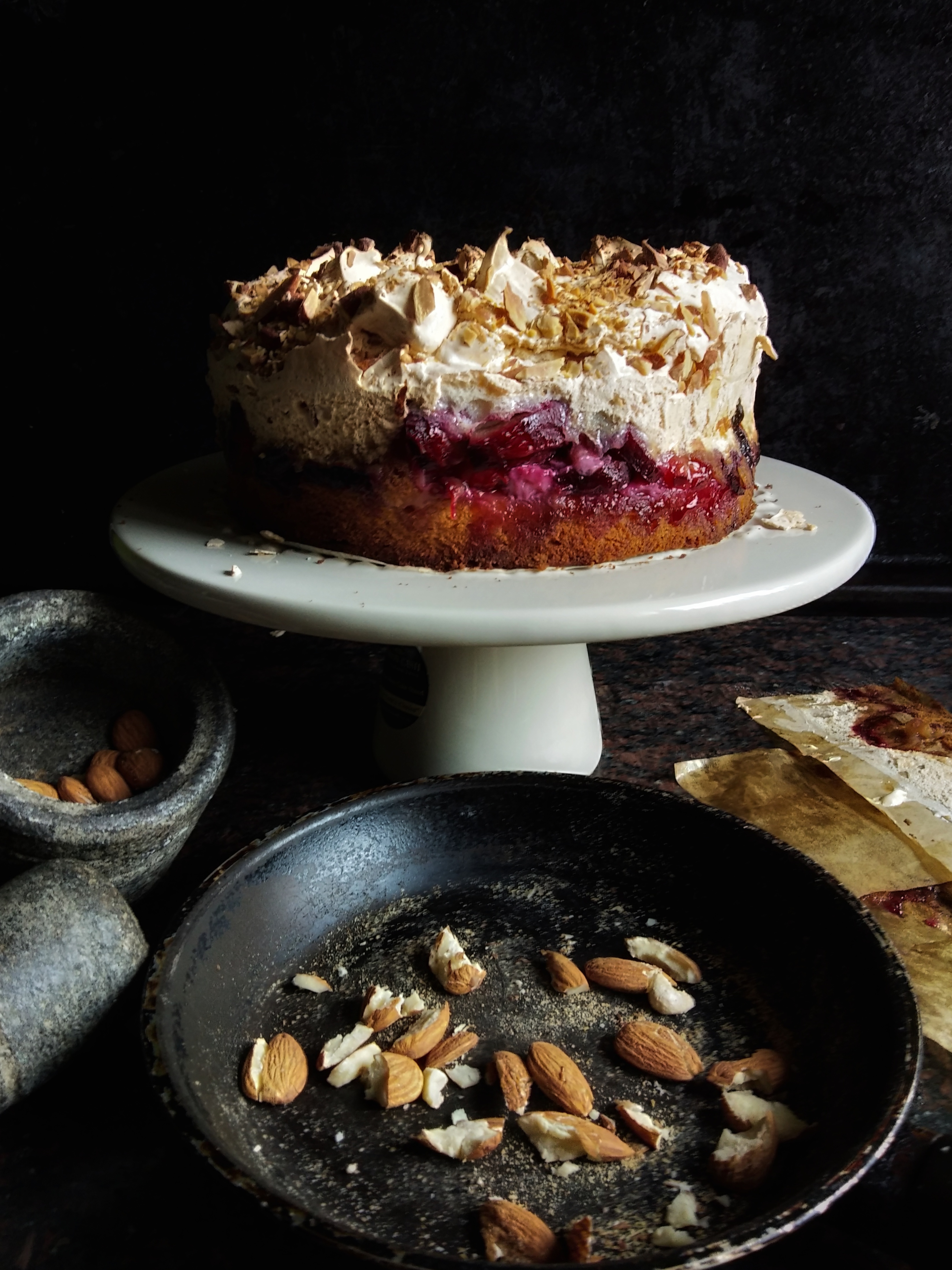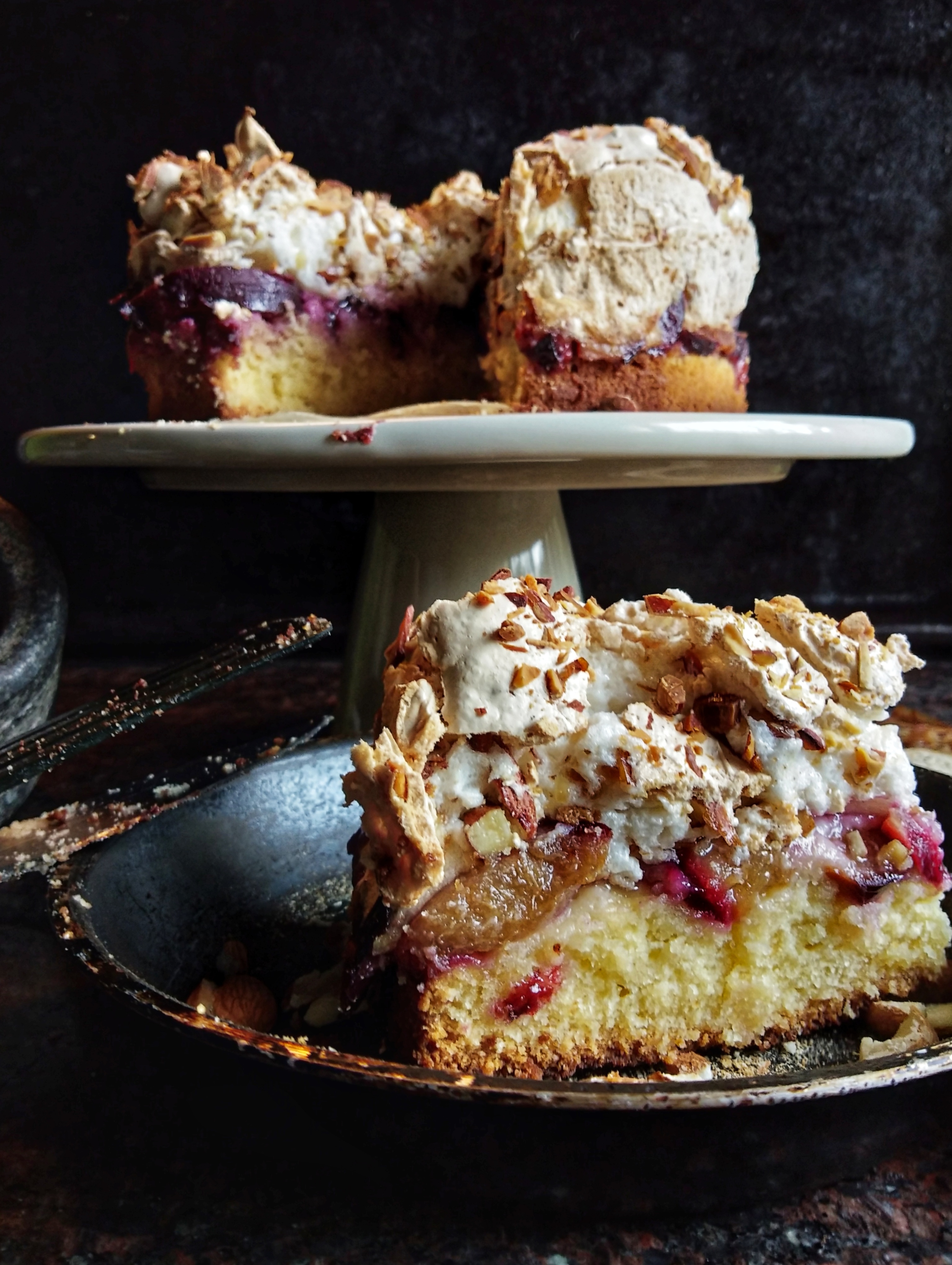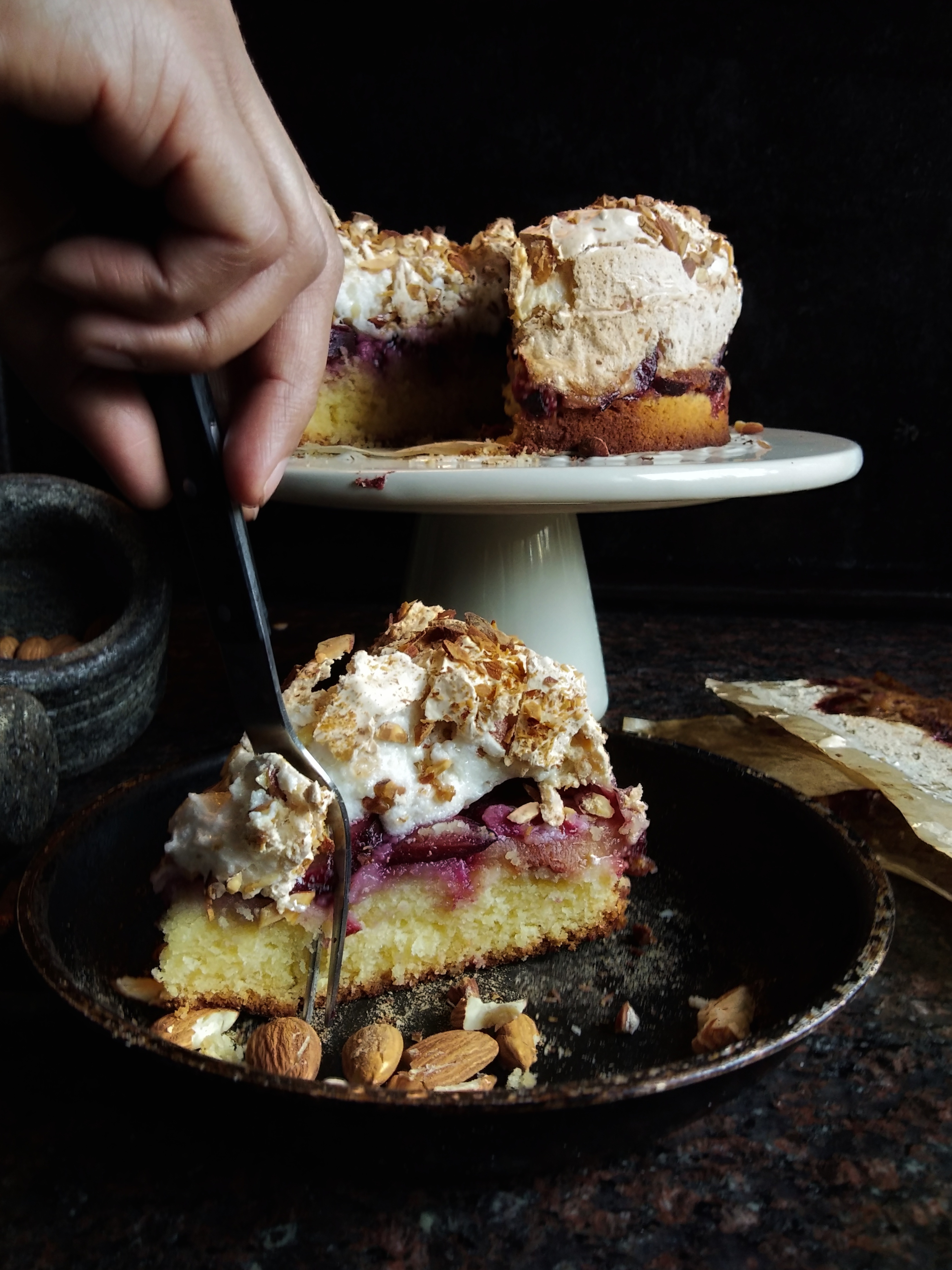 adapted from Ottolenghi's "Sweet"
ingredients
125g unsalted butter
100g caster sugar
finely grated zest of 1 lemon (1 tsp)
3 large egg yolks
125g plain flour
1½ tsp baking powder
¼ tsp salt
20g desiccated coconut
80ml whole milk
1 tsp vanilla extract
5 medium dark red plums, ripe but firm (450g), or peaches, apricots, cherries, etc.
meringue
60g flaked almonds
140g egg whites (from 3½ large eggs)
1/8 tsp salt
185g caster sugar
1 tsp vanilla extract
1 tsp white wine vinegar
1 tsp cornflour
instructions
1 Preheat the oven to 170°C/150°C Fan/Gas Mark 3.
2 Spread out the flaked almonds for the meringue on a baking tray and roast for 10 minutes, until they are a light golden brown. Remove from the oven and set aside to cool.
3 Increase the oven temperature to 185°C/165°C Fan/Gas Mark 5. Line the base and sides of a high-sided 20cm square or 23cm round tin (with a removable base) with baking parchment.
4 Place the butter, sugar and lemon zest in the bowl of an electric mixer with the paddle attachment in place. Beat on a medium-high speed, until light and creamy. Add the egg yolks, one at a time, and beat until combined. Sift the flour, baking powder and salt together into a bowl. Add the coconut and stir to combine. With the machine on a low speed, gradually add the dry ingredients to the butter mix, alternating with the milk and vanilla. Scrape the batter into the prepared tin – it will only rise about a fifth of the way up the sides – and smooth the top evenly. Place in the oven and cook for 25 minutes, until the cake is fully cooked and a skewer inserted into the centre comes out clean.
5 Meanwhile, prepare the plums. Slice each plum vertically in half. Discard the stones and slice each half into four segments so that you have eight segments per plum and forty segments in total. If you start with a larger quantity of smaller plums, or another smaller stone fruit like cherries, then just quarter each fruit.
6 When the cake is cooked, remove it from the oven and turn the temperature up to 200°C/180°C Fan/Gas Mark 6. Gently lay the plum segments on top of the cake, close together and cut side down. Don't overlap the fruit, though, as this will make the middle layer too watery.
7 To make the meringue, place the egg whites and salt in a clean bowl of an electric mixer with the whisk attachment in place. Beat on a medium-high speed for about 1 minute until soft peaks form. Add the sugar, a tablespoon at a time, and continue to whisk on a high speed until the egg whites are stiff and glossy. Add the vanilla, vinegar and cornflour and whisk again until combined. Finally, fold in the toasted flaked almonds.
8 Scrape the meringue into the cake tin, on top of the plums, and spread out evenly over the fruit. Swirl the meringue around so you get rough waves and peaks, then place in the oven. Immediately lower the oven temperature to 180°C/160°C Fan/ Gas Mark 4 and bake for 35 minutes, or until the meringue has formed a hard crust and is just beginning to brown. Remove from the oven and allow to cool in the cake tin for at least 30 minutes before pushing up the removable base to release the cake. Peel away the parchment paper, place on a platter, and serve.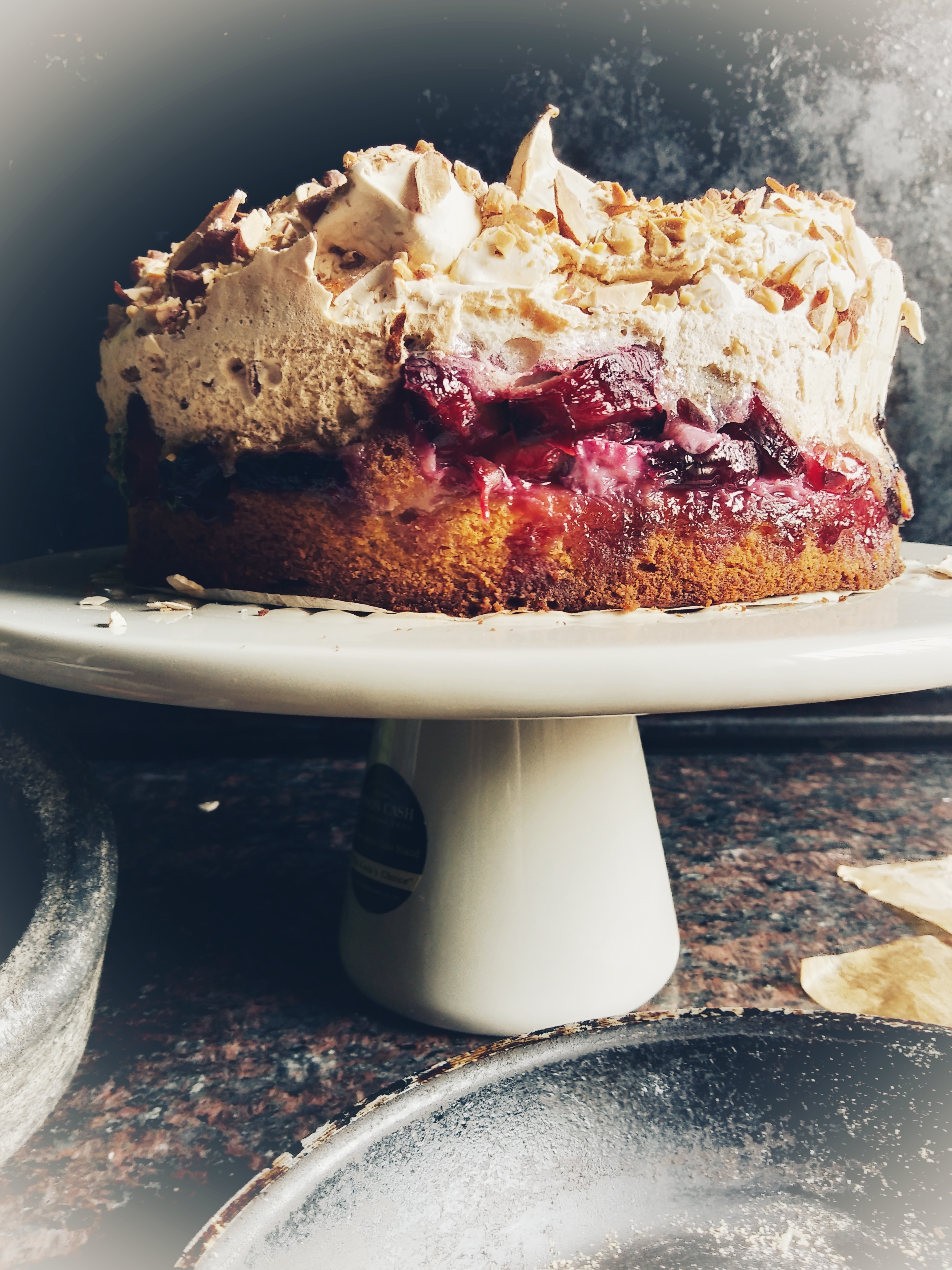 our verdict
the cake base was a deep yellow ochre from the egg-yolks, dense from the yolks and desiccated coconut with a light subtle flavor. the meringue crust was gorgeous with a few brown peaks here and there. the plums paired well with the cake-y base and the crunchy meringue. the toasted almonds added to the crunch and volume. a delightful summer treat, or truly as Yotam calls it, their "summer slice".
---
---