Chicken Hyderabadi Masala w/ Amaranth Bhaji and Chapatis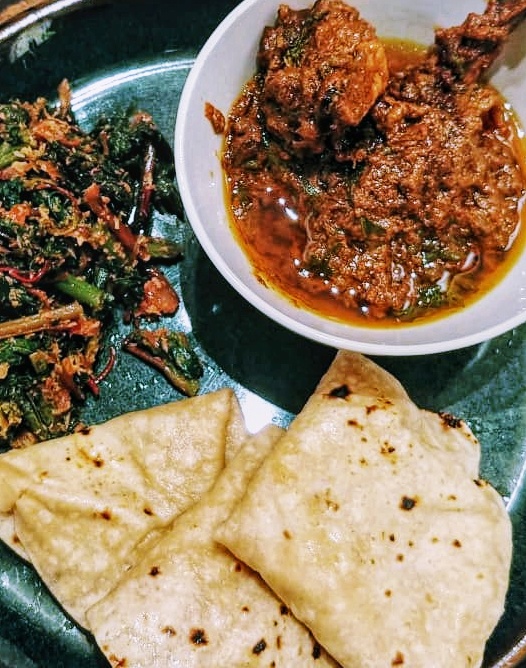 A lazy monsoon day that had us try our hand at a delicious Hyderabadi Chicken Masala. We served it with a side of Amaranth Bhaji and Chapatis. The curry with its rich brown and golden gravy was warm and comforting. A must try.
Chicken Hyderabadi Masala
500 grams chicken with bone, washed cleaned and drained of the excess water.
2 tbsp ginger & garlic paste
125 grams beaten thick yogurt or greek yogurt
2 onions finely sliced and fried crispy golden drained on kitchen towel
salt to taste
2 tsp coriander seeds
1/2 tsp cumin seeds
3 – 4 dry red chillies, seeds removed
1 tsp of fennel seeds
6 cloves
3 green cardamom
3 small pieces of cinnamon sticks
8 – 10 whole black pepper corns
1 onion roughly chopped
1/2 tsp turmeric powder
1 tsp kashmiri red chilli powder
1 tsp garam masala
a tbsp of of chopped coriander leaves
oil used to fry onions
1 tsp desi ghee optional
Marinate the chicken with the ginger garlic paste, yogurt, salt and crush the onions and add to the chicken. Mix it all well and leave to marinate on the kitchen surface for an hour or in the refrigerator for two to three hours or more. Bring to room temperature before cooking.
Dry roast the coriander seeds, cumin seeds, dry red chillies, black pepper corns, cloves, green cardamom, cinnamon stick and fennel seeds, till fragrant. DO NOT BURN. Let it cool and grind to a fine paste with the onion and turmeric, add a little water to make a thick paste. Heat the oil in a pan and if you want you can add the ghee. Add the paste and fry on medium heat, add a little water to the mixture jar and add to the pan and fry till the raw onion smell leaves and the oil leaves the sides. Add the marinated chicken with the marinade and mix well. Once it starts to sizzle cover the pan and lower the heat and cook it for 15 mins for the yogurt to cook and leave oil. After 15 mins ,stir again and add the red chilli powder and cook for another 15 mins covered (over here if you want you can add 1 cup of water, if you want a slightly thinner gravy). Stir occasionally. Add the garam masala powder and coriander leaves and mix well and cook covered for 5 – 10 mins. Turn off the heat and let it rest for 30 mins before serving.
Amaranth Bhaji
1 large bunch Amaranth leaves washed, cleaned and chopped
3 cloves of garlic thinly sliced
2 green chilies slit
1 onion thinly sliced
1/2 tbsp turmeric powder
1/2 cup freshly grated coconut
salt to taste
In a pan heat a tbsp of oil and fry the garlic and chilly for 15 seconds, add the onion and fry till translucent. Add the turmeric and stir, add the amaranth leaves and salt and cover and let it cook for 5 mins, stir and add salt mix it well and cover and cook further 7 mins, the water should dry off. Add the coconut mix well, fry on high for 30 seconds and turn off heat cover and let it sit for a few minutes before serving.
---
---