A fishy affair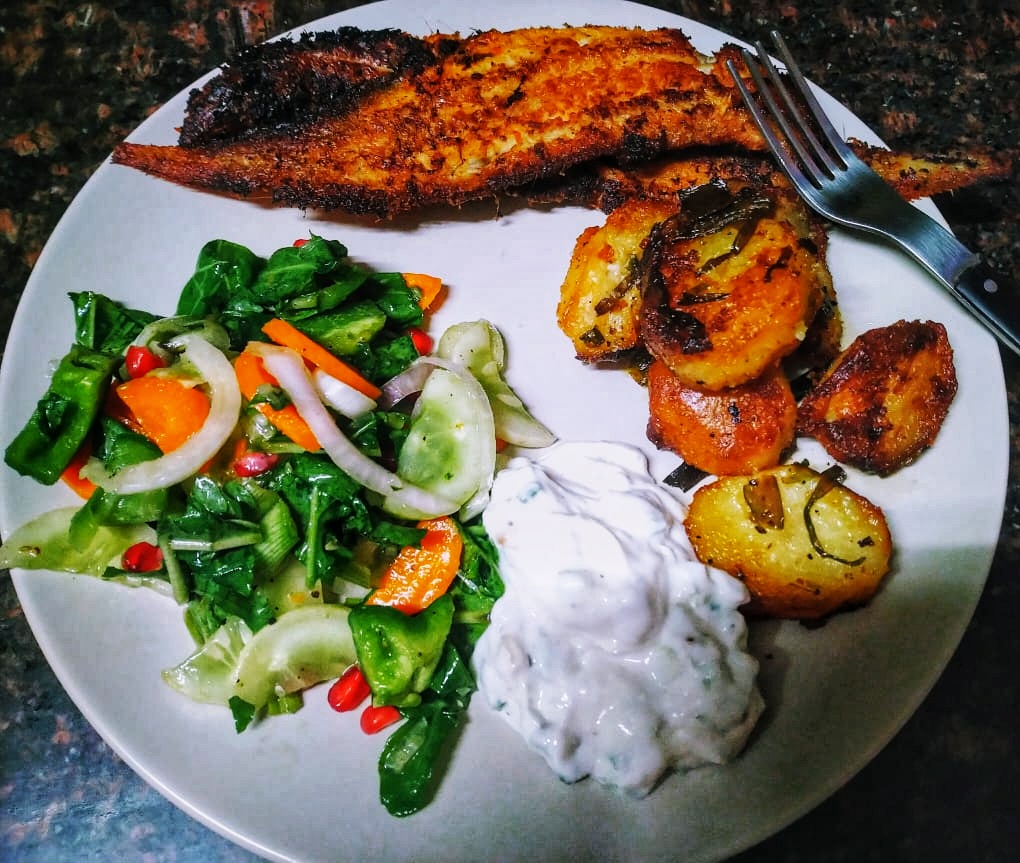 Fresh fish catch is a challenge during the monsoons but we were lucky to get our hands on some fresh Sole. We decided to move beyond the traditional Lemon Sole with Butter Sauce by adding some spice to the dish. So we created fillet of Sole fish marinated in Thai inspired flavours and pan seared, served with crispy roasted Potatoes with a Jalapeno and Yogurt dip and an Arugula salad with dressing from a simple honey and garlic vinaigrette.
Fish
sole fish, cleaned and skin removed and filled in about 6 to 8 pieces
4 dry red chillies, seeds removed and soaked in warm water for 20 mins
1 -2 lemon grass, outer skin removed and finely chopped
6 – 8 cloves of garlic
1 inch piece of ginger chopped
1/2 tsp of coriander seeds
1/2 tsp of whole cumin seeds
1/2 tsp of whole black pepper
1/2 tsp of jaggery grated or sugar
2 – 3 tbsp of lemon juice
zest of a lemon
1 tbsp of oil
salt to taste
oil for searing
Wash and clean the fish, remove the skin and fillet them. Set aside. Grind to a smooth paste the chopped lemon grass, garlic, ginger, chillies (not the water), jaggery or sugar, coriander seeds, cumin seeds, black pepper, lemon zest, oil, salt and lemon juice. Marinate the fish for at least an hour, longer would be better. Before serving, heat a large pan with a little bit of oil and pan fry the fish for 5 mins on either side. Drain in kitchen towel and serve.
Potatoes
8 potatoes, skin removed and cut into thick rounds
2 cloves of garlic crushed
salt to taste
1/4 tsp sugar
pepper to taste
1 tbsp all purpose flour
oil for frying
green stalks of the spring onions for garnish
Boil potatoes in a pan covered with water with the garlic, salt and sugar for 10 mins, turn off the heat and let it sit for 10 mins, drain the water and toss the potatoes in the flour. Heat oil in a pan and add the potatoes, toss and mix them, cover the pan and turn down the flame to low and let it slow roast for one hour, keep stirring occasionally. After an hour, add the onion greens toss and fry on high for 5 mins covered. Turn off the heat and let it sit for a few mins and serve.
Jalapeno Yogurt Dip
1 cup greek yogurt or normal yogurt with that has been hung for 1/2 an hour
2 large jalapenos, seeds removed and finely chopped
1 small clove of garlic, finely chopped
2 spring onions, finely chopped (optional)
juice of a lemon
salt to taste
ground black pepper to taste
In a bowl, beat the yogurt till smooth add the jalapeno, garlic, onions if using, salt and pepper and the lemon juice. Stir to mix and refrigerate for 20 mins and serve.
Arugula Salad with Honey Garlic Vinaigrette
In a bottle mix together a tbsp of honey, 1 clove of garlic, 2 tbsp lemon juice, 2 tbsp olive oil, salt and crushed black pepper to taste. Close the lid tight and shake well and set aside. In a large salad bowl, mix washed and clean arugula leaves torn, diced cucumber, diced capsicum, diced carrot and three roughly diced spring onions. Toss to mix everything together and pour over salad dressing and 1/2 cup of pomegranate. Toss and serve.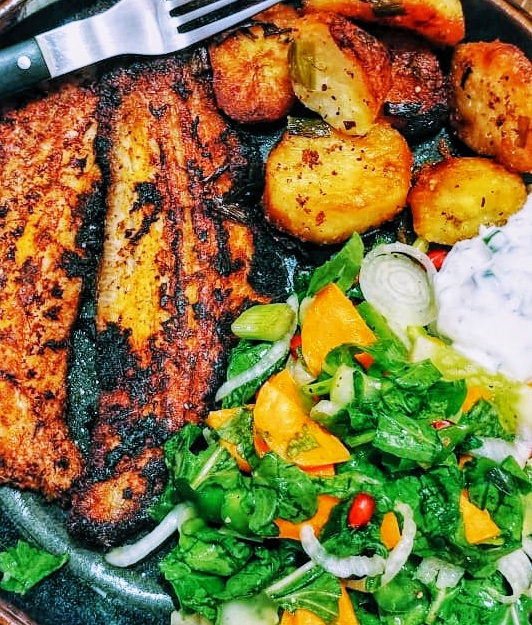 ---
---